Just over an hour's flight from Florida, the stunningly beautiful archipelago of the Bahamas is a desirable holiday spot for HNW individuals from around the world. Property prices in the Bahamas are typically high, reflecting the enduring popularity of the location.
Fortunately, buying in the region is relatively straightforward, as the government is keen to encourage investment from foreign investors. Aside from its natural beauty, the Bahamas offers an attractive tax environment for wealthy foreign investors, leading many to become resident
in the area.
What you need to know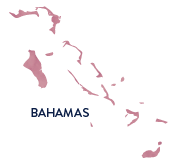 Stamp duty for properties over $250,000 stands at 12%.
Foreign investors are required to apply for a license in order to operate a rental property. The annual taxes to do so are:
<$250,000: 0%
$250,000 – $500,000: 0.75%
>$500,000: 1%
Private banking options are usually only available to clients with plenty of liquidity, as an interest reserve amount equal to one year's interest is generally required.