The beautiful island of St. Barts has always been a go-to destination for HNW clients in the Caribbean. The island is a popular winter holiday spot for the world's rich and famous, and longer-term residents can enjoy a privileged tax status.
The island is an overseas collectivity of France, and this link means some French lenders are happy to issue credit in the area, which is handy for European clients.
The island was devastated by hurricanes last year, but the sale of a property listed for $67million in December 2017 indicates interest is returning.
What you need to know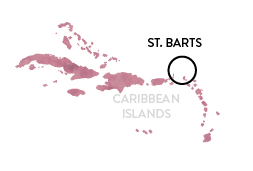 Most nationalities can borrow against real  state in St. Barts, and residency is not required—though the most favourable products are available for French nationals.
Interest-only products are available for liquid clients with a diverse range of assets, providing they are prepared to initiate a new private banking relationship.
People who have been resident in St. Barts for more than five years are exempt from income tax, as well as the wealth tax for all real estate located on the island. Equally, they are not subject to VAT nor to any other tax.
There is no Inheritance Tax liable on property on the island.
Favourable exchange rates offer buyers a great opportunity.