Whilst Italy isn't predicted to be a high-growth investment region, it's enduringly popular for the lifestyle it offers, so it's a spot many HNW individuals are keen to consider.
More affordable than neighbouring European cities like Paris and London, Milan is attracting increasing attention from Asian investors, following a number of significant property constructions. Meanwhile, historic Rome secured a top-20 spot in last year's millionaire density ranking, coming in at number 17.
What you need to know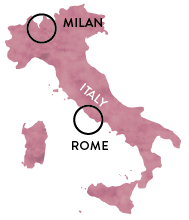 There are limited financing options for  foreign investors due to weak valuations.
The mortgage options available are primarily for liquid and diversified clients who are prepared to initiate a private banking relationship.
100% gross LTV mortgages are available on a capital repayment basis, with 40% of the loan amount to be invested with the lending institution for the life of the loan.
Land Registry taxes: €200
Legal fees are between 1-2%.
Notary fees are between 2.5-3%.
Registration tax: 2% for main residence/ 9% for non-residents.